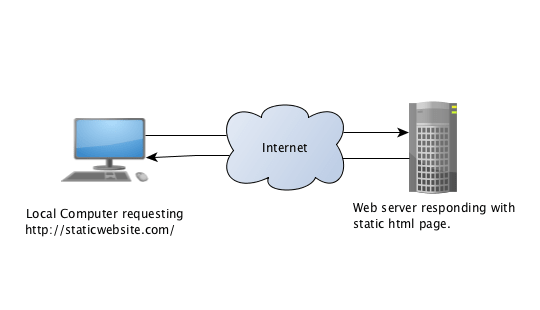 Diagram with overview how a static website serves pages. (created with yEd).
What is a static website generator?
Static website generators take a directory with content and templates and render them into a complete website as opposed to other systems such as WordPress, Joomla or Drupal which dynamically build a page every time a visitor requests one.
The advantages of this approach are:
Speed - web servers are very good at delivering static pages quickly.
Version control - having a repository where people can collaboratively work on a project is a win-win situation.
Security - with no database and no processing of server-side scripts, there's nothing to mess up.
Maintenance - there's no plugins, extensions, modules and frameworks to maintain.
Traffic surges - unexpected traffic peaks is less of a problem as static HTML pages utilizes a very small amount of server resources.
There is also disadvantages such as:
No real-time content - you lose the ability to have real-time data, but you can work around it with client side Javascript and take advantage of the programmable web and plenty of different external API's.
No user input - for example, you can't append user comments to a blog. The workaround is to use an external API such as Disqus, that is included with a client-side Javascript.
No admin UI - most static website generators do not have a WYSIWYG editor. (Appernetic has one built in wich you also can use on your mobile device)
Most of the static website generators that exist today have no WYSIWYG interface and you have to be a developer to manage the complicated workflow to create a website.
At MolnSys we recognized an opportunity to build an easy to use frontend where you can edit pages just like in a dynamic CMS and also manage the workflow to have the site published without knowing a single line of terminal commands. By using the popular static site generator Hugo, Git and GitHub Pages we built a SaaS platform to manage websites without the cost and troubles that are normally associated with CMS systems. For appernetic.io we use a freemium model where you can publish 14 times in a period of seven days. If you don't like the restriction you can pay what you think it is worth or pay as much as possible to support our micropreneural pipe dream.
Need help with your Account? Start here